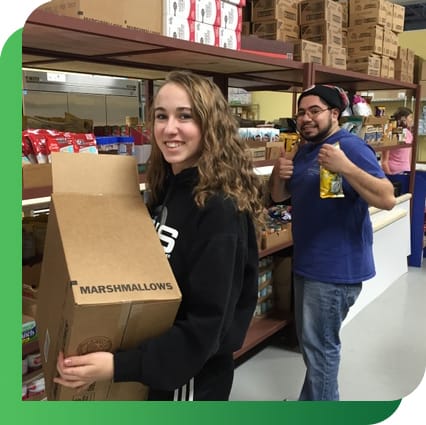 Marie Wilkinson Food Pantry Schedule

Nourishing food sustains our bodies, helping us meet life's challenges with dignity. Our pantry shares groceries to supplement your household's nutrition, relieving the pressure of difficult times.
Wed.  11:30 - 2 pm  Marie's West Pantry
Come inside to shop, 834 N. Highland Ave. Aurora IL
Fri.      12:30 - 4 pm    Marie's West Pantry
Drive-through service, 834 N. Highland Ave. Aurora IL
Sat.    8 - 11 am   Marie's East Pantry
Drive-through service, 801 Zeigler Ave.  (behind East Aurora High School)
Guests may visit one location, once a week.

West Food Pantry - 834 N. Highland Ave. Aurora IL
East Food Pantry - 801 Zeigler Ave. Aurora IL

Choose Healthy Foods!

In our "self-choice" shopping market style pantries, guests choose foods for their meals.  Milk, deli, dairy, produce, frozen meat, non-perishable food items, bread, bakery items and condiments are available.
Personal care items, paper goods and cleaning supplies are also offered when donations are available.

How often can I visit for food?
Guests may visit food pantry services once per week to select free food for your household needs.  For example, if you visited Marie's West pantry on a Wednesday you could return the following Wednesday, Friday or Saturday.   You many visit either Marie's East or West Pantries, to receive groceries once per week.
What time should I arrive to make sure I receive food?
If you arrive between the scheduled food distribution time you are able to shop for the free food items of your choice. During this time, you will receive a number which is required before shopping in our market. At the end of the scheduled time, no new numbers will be given out, but everyone with a number will be served. We recommend coming 30 to 60 minutes after we first open to have a shorter wait for food.
What do I need to bring with me to the Food Pantry?
Every time you visit you need to bring your MW Food Pantry card issued when you registered, that is all you need. If you happen to lose or forget your card, we will need to see your photo ID. We also recommend bringing reusable bags for your use. Additionally, we recommend bringing a grocery cart or large suitcase to help transport groceries if you are taking public transportation.
How long can I expect to wait to receive food?
It is hard to tell. Depending on when you arrive and how busy we are, you may end up waiting up to 60 minutes before your number is called. During that time, we have plenty of resources for your reference. To reduce your wait-time, we recommend coming in the last 30 minutes of the time we are open. By coming later, your wait time is significantly reduced. 
Is parking available?
We have parking available at both sites.
What food can I expect to receive at the food pantry?
We have a free "self-choice'' model of service, which means you get to 'shop' in a grocery store-like environment. We will always have a variety of fresh produce, meat, canned goods, peanut butter, jelly, cereals, and breads. However, due to varying donations, we do not always have the same things. We work hard to provide a variety of options, including low-sodium, vegetarian, diabetes-friendly, and fresh produce options.
If I cannot visit the Food Pantry myself, is there a way to receive Food?
If you are unable to visit the Food Pantry yourself, a family member, friend, or neighbor can shop on your behalf via a proxy form. They will act as a 'proxy' for you, and shop on your behalf. To do this, you will need to send a copy (or photo on phone) of your ID or pantry card and a completed PROXY FORM with them. They can shop for you during normal distribution hours, following the regular procedures.
Do I need to live in Aurora to receive food?
Everyone is welcome! We are open to all people living in Kane, Kendall, DuPage, Will or DeKalb counties. However, we never turn anyone away even if not living in these counties.
The Legacy of Marie Wilkinson in Aurora, IL

Marie Wilkinson was a lifetime social and civil rights activist who fought against poverty, hunger, homelessness, joblessness, and injustice. Marie founded the Aurora, IL Food Pantry in the 1950's after a near-death experience that caused her to make a personal commitment to helping the less fortunate.
Driven by a new life purpose, Wilkinson began giving out bags of food to those in need from her bungalow on View Street.  She recruited friends and neighbors to help, and soon she had a started a soup kitchen and food pantry. Today, the Food Pantry continues to serve the communities of Aurora IL, Kane County and the surrounding areas.