Marie Wilkinson's Legacy
Driven by a higher purpose

Marie Wilkinson was a lifetime social and civil rights activist who fought against poverty, hunger, homelessness, joblessness, and injustice.  After a near-death experience, Marie has a personal, life-long commitment to helping the less fortunate.  One of her missions was starting Aurora Illinois, the first food pantry.
Marie began saving food and giving out bags of groceries to those in need from her bungalow on View Street.  She was known to invite complete strangers into her home for meals and help them solve their problems.  She believed strongly that "people needed to see a glimmer of light at the end of the tunnel," recalls her daughter Sheila Scott-Wilkinson.
Marie recruited friends and neighbors to help, and soon she started a soup kitchen and food pantry.  Today, the Marie Wilkinson Food Pantry continues to grow and serve the community.
"She doesn't like to see anybody hurting for anything," said Rose Marshall, who has worked for decades at the pantry Marie started.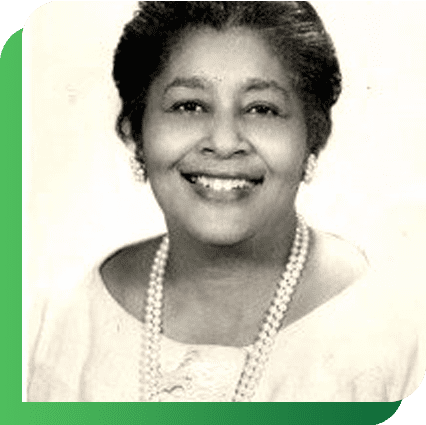 Order Marie's book
"Gentle Spirit", the Biography of Marie Wilkinson
The book can be purchased for $15 at the Marie Wilkinson Food Pantry, 834 N. Highland Ave. Aurora, IL 60506. Email [email protected] or call #(630) 897-5431.
Community Activist and Aurora, IL Legend
Marie Wilkinson has been a well-known name throughout the Aurora area. If you mention her name, everyone has input on how she has impacted their lives. Mrs. Wilkinson has strengthened her community through her activism and leadership as an advocate for human and civil rights in Aurora. Her legacy continues as a beacon of light for women, children, and minorities striving to improve their quality of life.
Education and Marriage
Born Marie LeBeau in the French Quarter of New Orleans. She was raised a devout Catholic and studied business at the former Straight University (now Dillard University). She visited Chicago at the age of 20 and met her future husband, Charles on a blind date. She moved to the State of Illinois in 1927 for good and married Charles shortly after in 1930. They had two wonderful children, Shelia Scott-Wilkinson and Donald Wilkinson. More than 60 years of volunteerism and prayer kept them bonded in faith and community before Charles passed away.
Marie's House a Place of Welcome
Mr. & Mrs. Wilkinson moved into a modest two-level home on Aurora's North View Street, now bearing Mrs. Wilkinson's name. The home was simply known as Marie's house, where the poor, hungry, displaced, unemployed, the sick, and the mistreated were welcomed. Many have wandered to Marie's place and they always found the door open. Mr. & Mrs. Wilkinson was always quick to give away their last pennies to a person in need.
Give financial help
Aid for Hispanic Boxcar Families
Wilkinson first became an active voice in the community when she took an interest in Hispanic factory workers, pulling them from the boxcars they were living in, with no electricity, water, or even shoes. She worked on behalf of the factory workers and convinced the factory owners to provide year-round work for the employees, so families could stay together. She went on to challenge City Hall to provide schools and adequate housing to accommodate the growing number of families that had moved into the river community. While on a crusade to help the Hispanic community, Mrs. Wilkinson arranged for a Spanish-speaking priest to be brought in from the city because the local pastor had not thought about the Hispanic workers' desire for Confession.
Service Organizations in Aurora, IL
Mrs. Wilkinson helped to launch more than 60 charitable organizations, including:
Breaking Free – Addiction Recovery
Catholic Social Action Conference
Child Development Center
Feed the Hungry
Hesed House Homeless Shelter
Marie Wilkinson Foundation and Community Food Pantry
Quad County Urban League Local Chapter
SciTech Youth Science Museum
She also established college funds for underprivileged children and includes guidelines for the disabled.
Honorable Mentions
Victory in Discrimination Suit
In the late 1940′s when Mrs. Wilkinson was refused seating at Hart's Drive-In because she was African American, she won her case before the State Appellate Court.
Aurora Human Relations Commission
Through the Human Relations Commission that she founded in 1964, she is credited with the first Fair Housing Ordinance in Illinois. She served for over 30 years on the Aurora Human Relations Commission and worked to implement local equal rights and programs dealing with drug abuse, lead poisoning, and other health issues.
Child Development Center Established
Thirty years before the trend, Mrs. Wilkinson realized the many needs of single mothers. In the 1970′s, Mrs. Wilkinson raised $46,000 for a child-care center in Aurora. The Marie Wilkinson Child Development Center thrives today after 60-plus years.
Service Awards
In 1999, Mrs. Wilkinson was presented the Service to God and Fellow Man Award from the Aurora Kiwanis Club. In October 2002, Mrs. Wilkinson was honored with the Catholic Church's highest honor for missionary work in America, the Lumen Christi Award, meaning Light of Christ.
Mrs. Wilkinson turned 100 in May of 2009 in which many people from all walks of life joined in her birthday celebration to wish her many thanks for all of her hard work and accomplishments over the past years in the Aurora community.