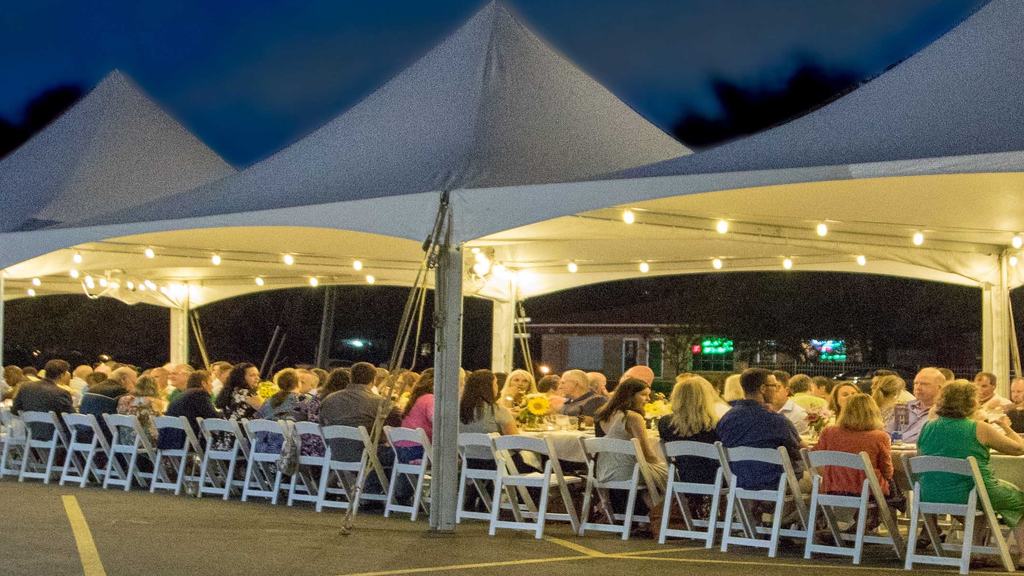 AURORA, IL
Marie Wilkinson Food Pantry
834 N. Highland Ave. &
Marie's Pantry Garden
835 N. Highland Ave.
6 PM Hors D'Hoevres & Cocktails
7 PM Five-Course Dinner
Volunteer Spots are Full for 2023, Thank You!


Enjoy dining Farm to Table 'al fresco' outside under a white canopy at sunset. Tour Marie's Gardens and enjoy the Urban Farm experience at sunset.

What can I expect at Marie's Harvest Dinner?
Guests arrive at 6 pm, gathering with beverages and appetizers to mingle and tour Marie's Pantry Gardens & Urban Farm, located across the street from the pantry at 835 N. Highland Avenue.

Enjoy beverages by Wyckwood House Cocktail Bar and Hors D'oevres by Charity Blooms. Drinks are included with each dinner ticket. Mix and mingle, see old friends. Make some new friends too!

At 7 pm, Harvest Dinner will be a sit-down, multi-course meal under a white canopy featuring home grown produce prepared by local restaurants. Beer and Wine pairings are curated by Wyckwood House Cocktail Bar. Live music by YFJH Quartet.

Thank you 2023 Harvest Dinner Partners!

Charity Blooms, Glory Gardens, Rehoboth Farm

Alice's Corner, Altiro Latin Fusion, Katich Breads,
Reulands, Spartan House,
Modest Coffee Roasters
Wyckwood House Cocktail Bar

Flowers by George's Garden, Rebekah's Garden, The Flower Basket

With Generous Support from:
The Dunham Foundation, Greenlife Media Group,
Marissa Bright, Marquette Hamlin Group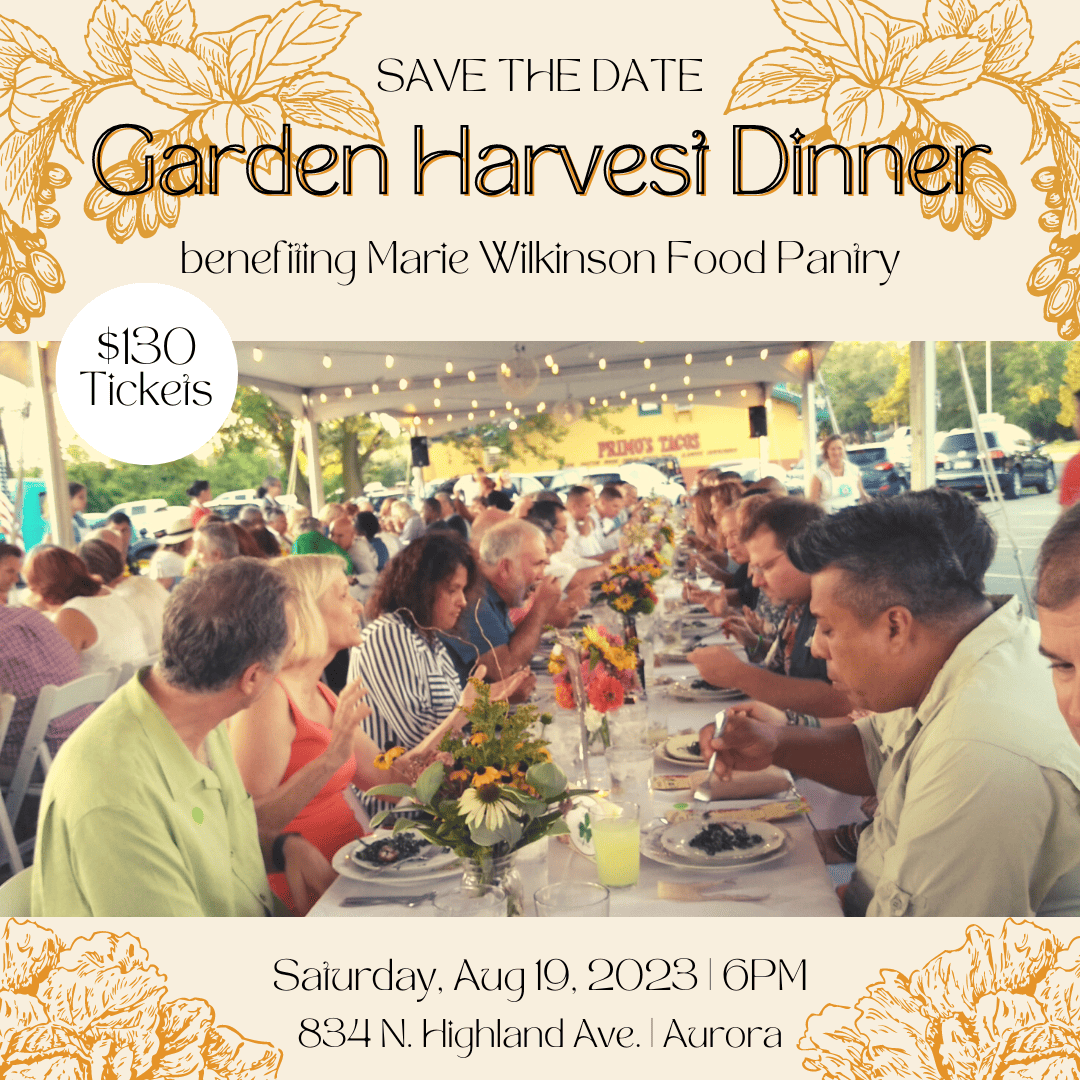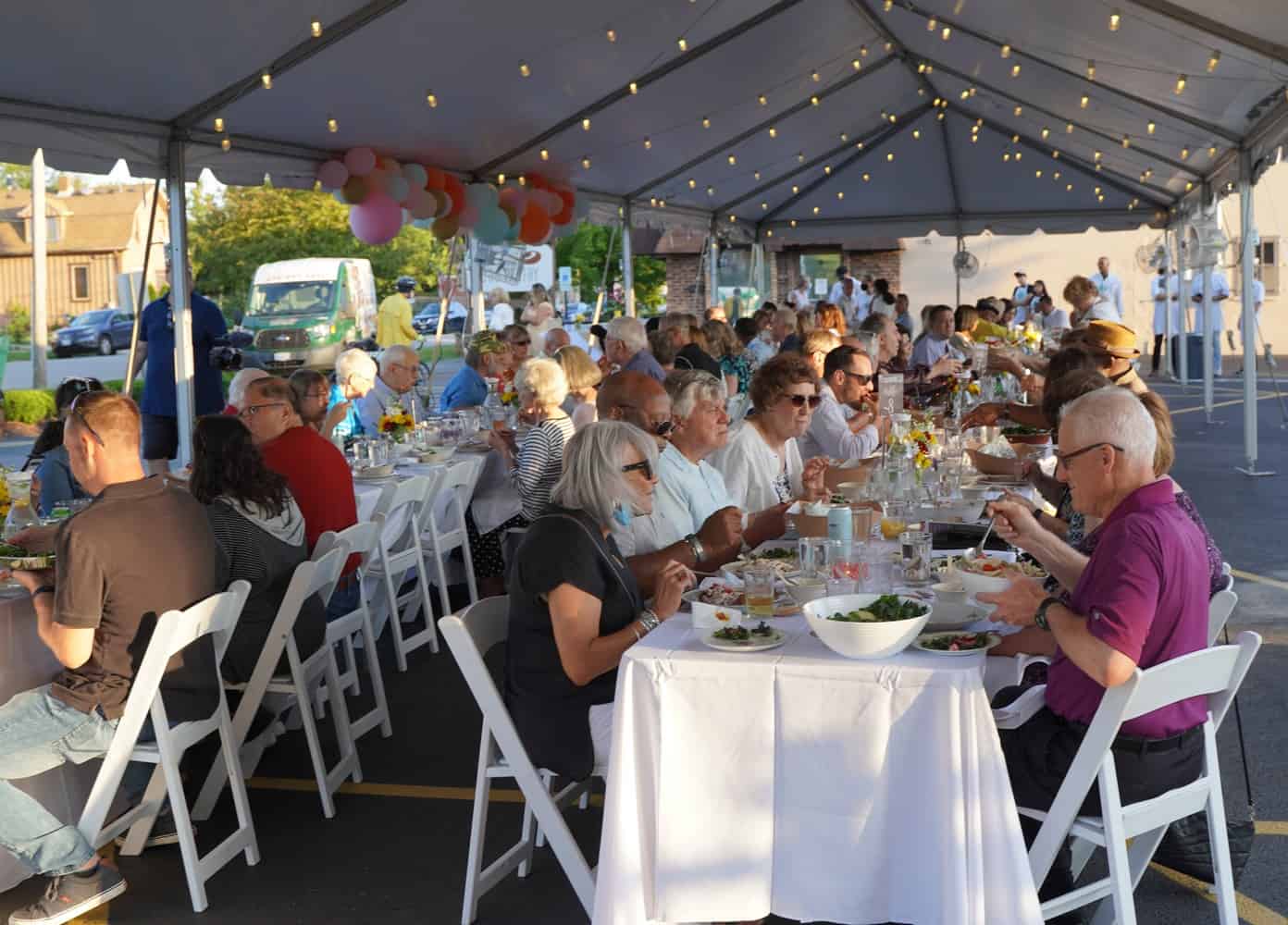 When should I arrive?
Plan to arrive at 6 PM to enjoy a drinks and appetizers. No printed tickets needed. Check in at registration upon arrival. Take a stroll through Marie's Urban Farm and NEW CommUNITY Gardens, and chat with our Harvest Volunteers!

Dinner will begin around 7 pm.
Can you accommodate guests with dietary restrictions or food allergies?
As meal will be plated, our dinners are best suited for flexible, adventurous eaters. Due to the nature of a shared meal and to uphold high-quality standards, we are not able to accommodate limited dietary requests.
Can you accommodate children at the events?
While we love kids, this event is for adults. Consider it a much-needed date night!
Is there alcohol at the Garden Harvest Dinner?
Yes. The ticket price includes a selection of wine and beer to enjoy with appetizers and dinner. Water and Lemonade will also be available. For your safety, we suggest that you arrange for a designated driver or plan for a driving service to get you home safely after consuming alcohol.
What is the price per person and what is included in that price?
Tickets are $130 per person. The ticket price includes welcome beverages, strolling appetizers, plus a seated five-course meal with refreshments.
What forms of payment do you accept?
We accept payment online only. You can use any major credit card (Visa, MasterCard or AMEX). Cash or check is also accepted in advance.
When can I make a reservation?
Complete schedule details for our Garden Harvest dinner are posted on mwfoodpantry.org. Keep in mind that we anticipate a sell-out. You'll have the best chance for a seat if you make a reservation as soon as tickets go on sale. All ticket sales end 24 hours prior to an event.

How do I make a reservation?
If you have any questions about the order process, please reach out to [email protected].
Do you take reservations for larger parties?
Larger parties of up to six may be seated together. Let us know in advance so we can arrange your place settings accordingly.
What if I have tickets, but can't attend?
You are welcome to transfer your tickets to someone else. Please contact us at least 24 hours prior to the event so the new guest's information may be recorded. Otherwise, please tell them to use your name at arrival. Unfortunately, refunds cannot be offered, as costs for each dinner guest have already been paid out.
Is there a waitlist for sold-out events?
Once sold out, it is unlikely that more tickets will become available. Check our Facebook event page as people may go there looking to buy or sell last-minute seats.
Will I be able to see a copy of the menu before I arrive at the dinner?
The tentative menu will be posted on our website, some final menu details will be revealed as guests sit at the table. Our featured chefs designed the menu in the weeks leading up to the event, based on the freshest ingredients available from our garden. We want the meal to be seasonal, artistic, and spontaneous!
What if it rains?
All events are rain or shine. In the case of rain, the dinner seating is in our parking lot under a High-Peak Frame tent. Guests are still welcome to tour the garden, so be sure to check the weather and dress appropriately.
What should I wear?
Let's call it "nice casual," perhaps, however, jeans and casual attire are not out of place. We'll be in a parking lot, so dress comfortably for the weather and choose shoes that you'll feel comfortable wearing while walking on the grass. It can get cold at night, even after a warm day, so please come prepared with a jacket or blankets to keep you comfortable. We anticipate many beautiful sunsets this coming season and recommend you bring a hat or sunglasses as needed.
What about parking?
Onsite parking will be available on the south side of Marie Wilkinson Food Pantry. There will be a short walk from the parking area to the event site, which will be on our north parking lot. Should anyone in your party have challenges with mobility, please let us know when purchasing tickets and notify a parking attendant upon arrival.
I can't come but would love to support the event.
Thank you! There are two ways to participate:
To make a donation without attending, click the "buy tickets" link, and choose "donation ticket". Then enter the amount you would like to donate in the "donation" field below and proceed as above. Your confirmation email will sound like we think you're coming, but we'll know it's only in spirit.
What if I have additional questions?
Let us know! [email protected]