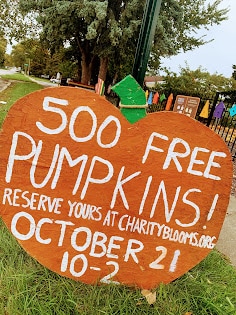 Hundreds of FREE Pumpkins!
Event by 'Charity Blooms' Garden Volunteers
Come to Marie's Pantry Garden on Saturday, October 21st, from 10 am to 1 pm at 835 N. Highland Ave. in Aurora. Fall Fest is free and open to the public. Register today to reserve a free pumpkin!

•Free Food & Activities!
•Face Painting!
•Cookie Decorating!
•Costumes Encouraged!

'Charity Blooms' is a NFP Partner of Marie Wilkinson Food Pantry that provides volunteer opportunities to grow food and learn how to build a sustainable community together.

Learn more at charityblooms.org >
---
EVENT BY CHARITY BLOOMS – MARIE'S NFP GARDEN PARTNER!
THANK YOU TO MARIE'S GARDEN PARTNERS!
Charity Blooms' 2023 Pumpkin Patch was planted in partnership with Glory Gardens, on land generously provided by Purpose City Church (formerly Ginger Creek Church and All Nations Aurora).

Thanks to Alpha Kappa Alpha Aurora and MANY Charity Blooms and Marie's Pantry Garden volunteers for helping bring the harvest bounty!