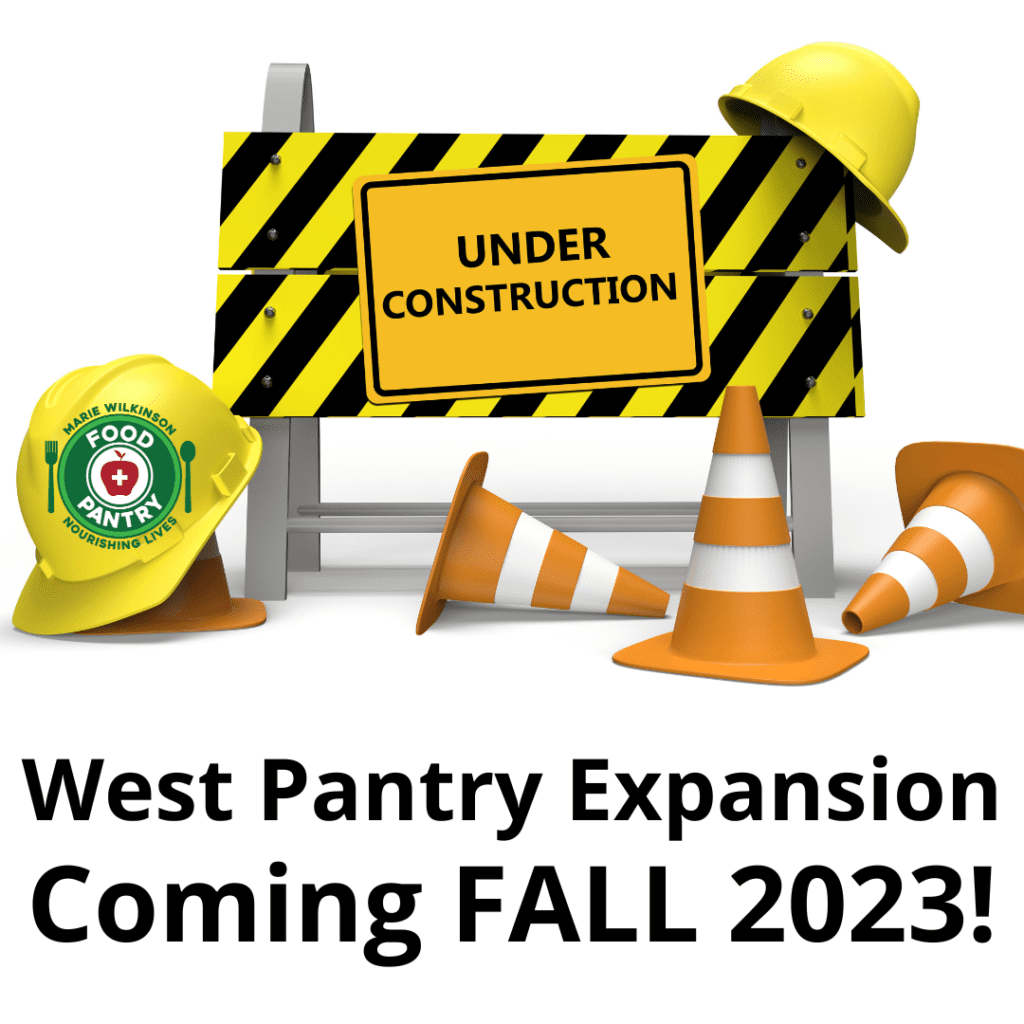 There is GROWTH on the horizon!

Due to decades of solid growth in hunger relief services, our central hub – Marie's West Pantry at 834 N. Highland Ave. is bursting at the seams!

On the desk lies drawings for a building renovation. An enlarged building and parking lot footprint extends towards the south. Plans include handicap accessible restrooms, increased food storage warehouse shelving, and room for educational gatherings.
Will Marie's Pantry be fundraising for this building expansion? NO! Indeed NOT!

How on earth is that even possible? Let's take a moment to remember what the pantry relies on from community donations.
Community Donors Provide Vital Support:
> Canned Goods, Dry Goods
> Fresh Farm & Garden Produce
> Gas budget for Food Rescue Truck & Vans
> Technology budget to run operations
> Budget for Food Bank purchases
> Electricity to keep the lights on!

Day in, and day out, volunteer power and donations from friends and neighbors are the heartbeat that sustains these vital community services. That's always been the case, and will remain how the pantry operates in the future.

The GOOD NEWS is, Marie's Pantry will NOT be fundraising for building and property expansion, because the 'powers that be' in our state and federal government have reviewed our efficient operations and far reaching services, and allocated grant funding for capital improvements!

Grant funding is strictly for building expansion only, and cannot be used for daily operations and services. Community donors (like you!) will be needed now, and going forward, to power Marie's Pantry services and programs.

This expansion will build a foundation for continuing to serve the growing population for decades to come.
---

Link to News Article – Grant Funding for 7 Aurora Organizations >

Excerpt about Grant Funding from News Article:
"AURORA, IL — Congressman Bill Foster (D-IL) secured almost $26 million in Community Project Funding for the 11th District. This includes more than $13.5 million for seven Aurora organizations.
The year-end omnibus spending bill totaled $25,821,367. The total includes funding for all 15 Community Project Funding requests he made on behalf of the 11th Congressional District, his office said. The package passed both the Senate and House of Representatives and has been sent to President Joe Biden to be signed into law…
… In Aurora, Marie Wilkinson Food Pantry, the Aurora Police Department and Fox Valley Park District are just a few of the organizations that received funding. Bolingbrook, Joliet and Montgomery, part of the 11th District, also received grants."
---
Marie's West Pantry is Filled to Capacity

It has taken a lot of creativity, and not just a few 'bubble-gum and band-aid' solutions to keep up with growing needs and challenges in recent years. Every square foot of space West Pantry is used in multiple ways each week! When it's not a food service day, our guest waiting area becomes the conference room. And when it's not a conference room, it's a prep and packing room!
Marie's West Pantry on Highland Ave. serves as the main hub for receiving donations, packing for deliveries, and food storage. Our operations serve the community three days a week at the East & West Pantries, plus Student Food Day & Senior Center Delivery days. (Stay tuned for an announcement about two additional weekly services coming soon!)
Where cans of corn, beans and soup used to be sorted, you'll find the director's office nestled in the cozy northeast nook. Two storage shelves for cooking class supplies were moved to make room for our volunteer coordinator. Three small outbuildings, (including the garage!) are packed floor to ceiling with supplies. (No, there's no more room for our Food Rescue truck and vans to park in the garage. Sorry drivers!)

---
We're excited about what opportunities this expansion has in store for our community. Stay tuned for more exciting news and updates!