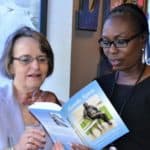 See the original article in Beacon News >
New book honors 'Mother of Aurora'
Kathleen Snow (left) looks through the new book she compiled, "Gentle Spirit: Memoirs by Marie Wilkinson," with Quad County Urban League President Theodia Gillespie at a birthday/anniversary party held recently in Marie Wilkinson's honor at Leland Legends in downtown Aurora. (Fernando Castrejon/HANDOUT)

The book can be purchased for $15 at the Marie Wilkinson Food Pantry at 834 N. Highland Ave. Aurora, IL 60506. Email [email protected] or call #(630) 897-5431.
Denise CrosbyAurora Beacon-NewsMay 30, 2017, 5:39 PM
If you are reading this column, there's a good chance you know who Marie Wilkinson was.
If you follow local news and lived long enough in the area, you probably are familiar with this beloved civil rights and community activist. You probably recognize her as the founder of a food pantry and child care center bearing her name and who devoted the vast majority of her 101 years working for justice and equality for the vulnerable, poor and oppressed.
But there are plenty of folks who don't closely follow local news, who are not old enough or who have not lived long enough in the Fox Valley to have known about this woman lovingly known as The Mother of Aurora.
When little kids — and likely even their parents — walk past the life-size bronze sculpture of her that sits on a bench outside the Santori Public Library in downtown Aurora, many don't have a clue about the story behind the statue — who she was or why she's holding that bullwhip given to her by her father-in-law who felt the sting of it on his back when he was a slave.
"Gentle Spirit" was decades in the making: It was compiled by Kathleen Snow, a longtime friend who sat with Marie on a number of charitable boards and saw first-hand the impact she had on people, particularly after attending a standing-room-only birthday party for Marie hosted by the community in 1995 that brought together people of all races, religions and socio-economic backgrounds.
"Someone must tell your story," Snow insisted to the guest of honor on that day long ago. A couple of years later — after her beloved husband Charlie passed away and she'd had time to grieve — Marie decided her friend should be that someone.
Marie Wilkinson, at age 99, in 2008 in Aurora. (Terry Harris/Chicago Tribune)
And so, for a year of Sundays that concluded in 1999, the two women met at Marie's house, where Snow recorded the soundtrack of this living legend's life, starting with her childhood back in New Orleans, leading to her move to Aurora in 1928 at the age of 20, where she eventually raised a staggering $12,000 for Dr. Martin Luther King's Selma march — mostly through her close ties to local churches — and where she also fought bigotry and racism up close as her adopted city grew more diverse.
Then last year, as the 60th anniversary of the pantry approached, Renner put out a call for a writer to donate his or her time to the project. That's when she got a call from Snow herself. Now that she was semi-retired — working only a couple of days a week as the communication director for the Missionaries of the Sacred Heart — she wanted to volunteer to finish the project she started with her friend all those years ago.
"Marie wrote it, I just typed it up," she said humbly. "She trusted that I would print what she said and not downplay the message. She spoke the truth and that is hard to argue with."
Some of the book contains the words of other people in the community whose lives were deeply touched by "Mother Marie." And many more "could add their own chapters," noted Snow, "from their own experiences with Marie, how she inspired them, what she meant to them."
It took three full pages to list all the awards Marie was given and a page and a half to note the 38 organizations she belonged to. But the vast majority of the book is not so much about her life, her deeds, or her accomplishments as it is her message. And Snow hopes those words inspire others, young and old alike, "to take time to think, to read … And to do as Marie did, perform one small act of kindness a day."
The book release and signing was held last week at a birthday party — Marie was born May 6, 1909 — and the anniversary celebration of the pantry. The event, held at Leland Legends in downtown Aurora, was attended by plenty of community leaders, including former Mayor Tom Weisner and new Mayor Richard Irvin, who told the dozens of guests that, as a young black man raised by a single mom in the Aurora projects, he'd probably "not be standing here today if it were not for the work of Marie Wilkinson."
To keep her legacy from slipping, noted Renner, all money raised from book sales will go toward projects, including a possible documentary and small museum within the downtown library, so future generations will know just how special Aurora's matriarch was.
The book can be purchased for $15 at the Marie Wilkinson Food Pantry at 834 N. Highland Ave. Aurora, IL 60506. Email [email protected] or call #(630) 897-5431.
"It's hard to describe the feeling when I finally held the book in my hand," said Renner. "I never really knew Marie, so it is wonderful to have something of her, her message, her spirit, her legacy, not just for Aurora but for all people who can be inspired by what she has to say."